Having an efficient home has its benefits, but there are some additional considerations that should be taken into account when buying flooring for a tiny house. The primary consideration is that the flooring material should be versatile enough to work in every area of the home. Bulky flooring types like concrete, ceramic tiles, marble or slate can easily be crossed off the list. The ideal flooring material should be water resistant, durable and easy to clean. Let's take a look at some of the possibilities.
Carpet
Carpet may seem like the ideal flooring material for a small house, since it is cheaper and can blend in with almost any type of décor. Carpet is relatively affordable to install as well. However, who wants carpeting in their bathroom or kitchen? Carpet would be an unsanitary choice and trying to get spaghetti sauce out of carpet is always a challenge.
Vinyl
One viable option for tiny house flooring is vinyl. It is less expensive than other types, resilient and easy to clean. Vinyl is waterproof so it is a natural choice for bathrooms, laundry rooms and other wet areas of the home. The drawbacks, however is that the quality is lower than other types of flooring and can make your home look cheap. While there has been an improvement in the colors and designs, there are still a limited number of choices available to use. Another important consideration is that vinyl flooring is made from petroleum and can release dioxin with is a health hazard. In addition, there are a limited number of recycling options so it is less sustainable.
Hardwood
Hardwoods are always an attractive flooring option, but for a tiny house they are not the right choice. Hardwood floors are one of the most expensive flooring types and require more extensive installation. In addition, they easily display damage with dents and scratches and are easily destroyed by water. Due to the regular presence of moisture, hardwoods should never be used in the bathroom, laundry room or kitchen.
Laminate
The best choice of flooring for a tiny home is laminate. This material comes in a wide variety of colors, textures and designs that can match any look in your home. Laminate flooring is easy to install, low maintenance and easy to clean. It offers superior durability than hardwoods, but can provide the appearance of natural wood. Laminates are available in water-resistant and water-proof versions so you can rest assured that they won't be damaged in the kitchen, bathrooms or other areas with moisture. Nearly all laminates are manufactured with recycled materials and are made with green practices so they're more earth friendly. Moreover, laminates are affordable and are perfect for DIYers looking to save on installation costs.
Floor Heating for Tiny Homes
With tiny homes, saving space is critical. The QuietWarmth floor heating mats is an affordable option that saves space, cost-effect and works well under laminate and floating engineered flooring.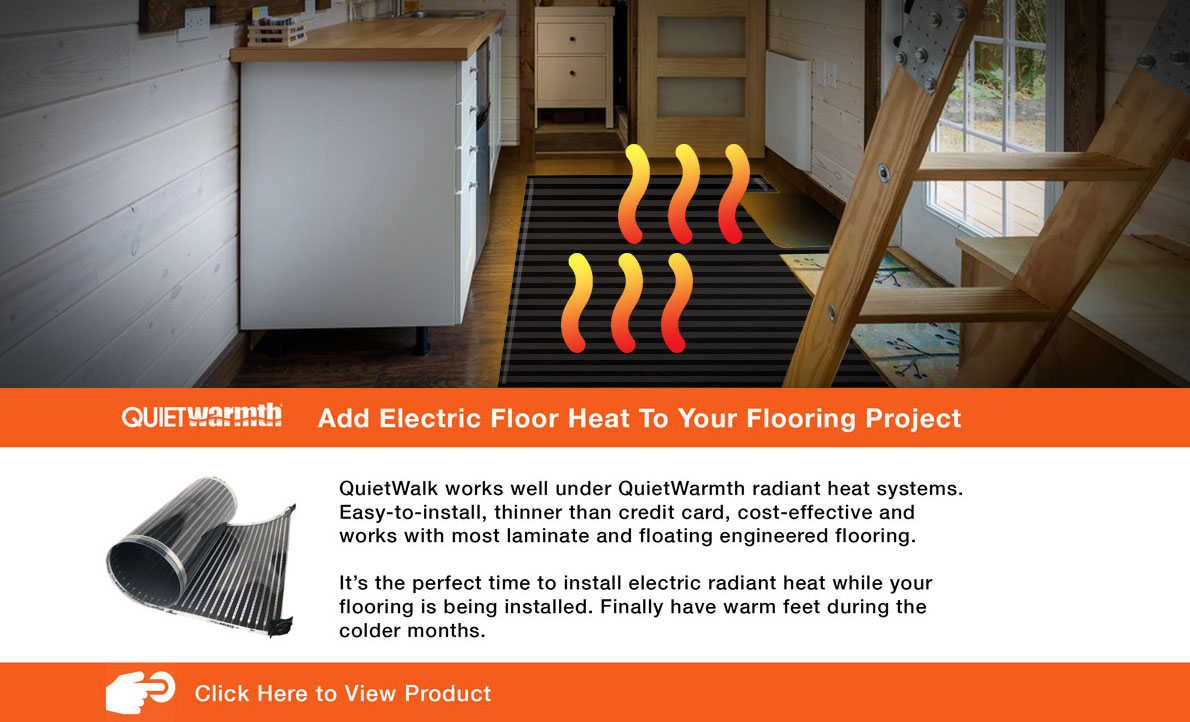 So if you live in a tiny house and want to upgrade your flooring, laminate is the best choice. With the size of your home you can probably knock out the project in a weekend or hiring a professional to get it done for you won't be too expensive.
Recent Posts
Having an efficient home has its benefits, but there are some additional considerations that shou …

Buying new flooring for your home is an exciting event. All of the time spent picking out the colors …

Having a rental property provides regular income and help pay down the mortgage while your proper …